Online Applications

edpuzzles allows you to add questions either by text or voice to videos. It integrates with Google Classsroom. You can search for content from sites such as youtube, Khan Academy, TED Talks, or National Geographic. Another nice feature is that you can track student's progress in real time.
Edpuzzle is an easy-to-use platform where you can make any video your lesson. One click and you can find video-lessons created by other teachers with formative assessment included! Another click and you can adjust that video by embedding your own questions or audio during the video. Final click, you assign it to your students and get beautiful hassle-free analytics: who watched the video, who didn't understand the lesson, and who did a good job. Students can re-watch the video as many times as they need, at their own pace. You can comfortably check their progress from your account.
Their help page is very detailed.
Free
padlet is an online application that allows students to collaborate via bulletin board, portfolio, or blog.
Somewhere between a doc and a full-fledged website builder, Padlet empowers everyone to make the content they want, whether it's a quick bulletin board, a blog, or a portfolio.
Freemium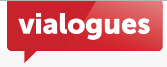 Post a video and create an online discussion forum. You can upload or link to a video already online.
Vialogues provides a space for people to hold meaningful and dynamic time-stamped discussions about videos. It proves videos are not only powerful educational resources but also the ultimate conversation starters.
Free – Columbia University
---

A classroom backchannel that allows classes to have chats via text or drawings. A .pdf of the discussion can be downloaded afterwards.
The Hong Kong Polytechnic University provides a detailed Help page that provides information on how and why to use this new alternative to Todaysmeet.
Free – Hong Kong Polytechnic University
Recommended Extensions
See all of your events and add more from your browser.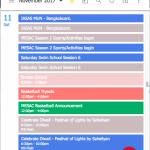 AudioPlayer for Slides "

AudioPlayer for Slides is a Chrome Extension designed to help you easily add or record audio to your Google Slide presentations."

"Certify'em lets you harness the power of Google Forms by turning them into online, certification exams. With easy to use controls and minimal setup, you can now send customizable PDF certificates to anyone who passes your online exam!"
Docutube – "Stop leaving your document to watch a video. This add-on grabs any YouTube link and embeds it in a popup in your Google Doc."
Flippity – "Easily turn a Google™ Spreadsheet into a Set of Online Flashcards and Other Cool Stuff"
Stay Focused – "StayFocusd increases your productivity by limiting the amount of time that you can spend on time-wasting websites."